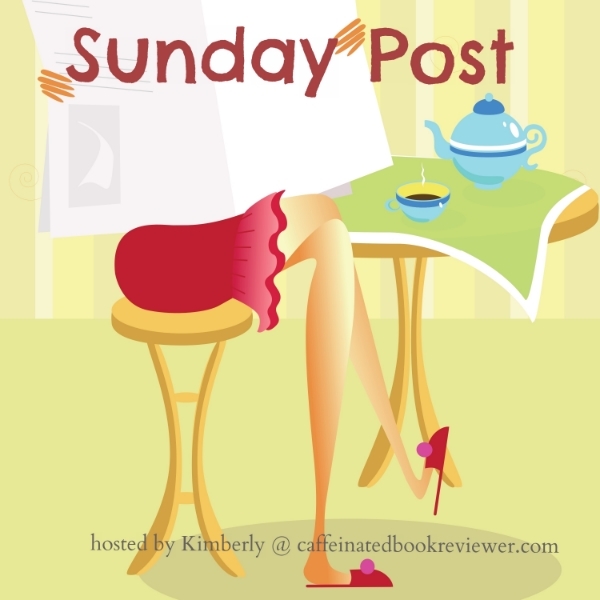 The Sunday Post is a weekly meme hosted here @ Caffeinated Reviewer. It's a chance to share news~ A post to recap the past week on your blog and showcase books and things we have received. Share news about what is coming up on our blog for the week ahead. See rules here:
Sunday Post Meme
Yes! Yes, I am! The weather here is more like early April, but I am ready for my summer! My pool is open! Marathon training starts tomorrow! #1000wordsofsummer starts tomorrow!
This will be my third marathon and I'm running as a charity runner for
Imerman Angel
s there are still spots available to join the team and run the Chicago Marathon for Team Imerman this fall! If I can run a marathon, you can run a marathon! Imerman Angels is a non-profit group that connects cancer patients and caregivers with peer support. They call the peer's Mentor Angels. Mentor Angels are that crucial listening ear, a person who knows exactly what you are going through and is on the other side--able to remind you that even if things are really tough now, there will be better days ahead.
On the same day marathon training begins, the two-week writing challenge invented by author
Jami Attenberg
. As the name implies the challenge is to write 1,000 words every day for two weeks. It might actually be 15 days now that I think about it, I believe the end goal is 15,000 words which is a nice start to any writing endeavor. I am going to go back to writing the cozy mystery novel that has been lingering unfinished and ignored by me for months. I have a few changes I want to make to the outline and then get back to writing. Or maybe I'll wind up writing something completely new. Who knows!
This week I have 3 books I'll be blogging about:
I'm trying to add some non-fiction to my audiobooks listening. This book is really fascinating!
I'm also trying to read down my physical TBR pile. I like to read my books and pass them on so if you want this book when I'm done, comment and let me know! ( will send as media mail)
So, what's on your agenda to start the summer?