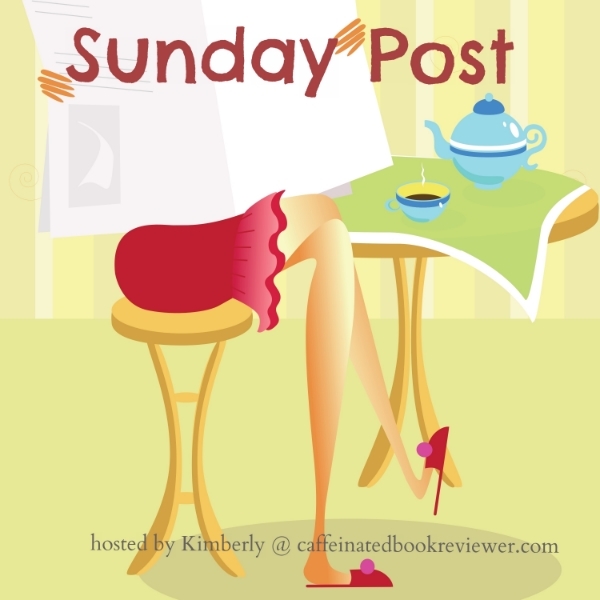 The Sunday Post is a weekly meme hosted here @ Caffeinated Reviewer. It's a chance to share news~ A post to recap the past week on your blog and showcase books and things we have received. Share news about what is coming up on our blog for the week ahead. See rules here:
Sunday Post Meme
How was your week? I'm happy to report here in my neck of the woods, after days and days of cloudy skies, on Wednesday (Coincidence ?) we woke up to sunshine that lasted for a few days. Nothing like sunshine in the winter! Wednesday was also the day that my bimonthly indulgence of Blue Apron arrived. I should have taken pictures of my meals to share here, but I didn't. The Hubs said they were delicious which was wonderful because he has been known to say things like "I think this food is too flavorful for me." What????
If you have ever wanted to try Blue Apron, I have some free meals. If you would like one, just use the contact me form on the right to email me, and then I can send you a link. I don't get any sort of referral money or anything, I just like to get Blue Apron once in a while, and when I do they give me links to give free meals to others.
I'm happy to report that I finished the last of 5 medical appointments for the month of January and all my fingers and toes are crossed that I need no medical-related contact until the end of March when I have to schedule a follow-up CT Scan for routine surveillance. It was nice to find out that at each of my appointments the medical staff had already had both doses of the COVID-19 vaccination. Now I have to make a change to my hope of avoiding all medical stuff until the end of March--if I could get the vaccine--then I'm happy to go to the doctor. :-) Other than the vaccine, I want to stay away from the land of white coats!
Coming up this last week of January I will be -
*Reviewing Visions of Heat for the Read-Along I'm doing via the COYER Challenge
*Reviewing Killer Chardonnay our January Book for the Cozy Mystery Book Club
*Talking about Valentine's Day and other days of note in February!
How about you? Tell me one good thing that has happened to you this week!