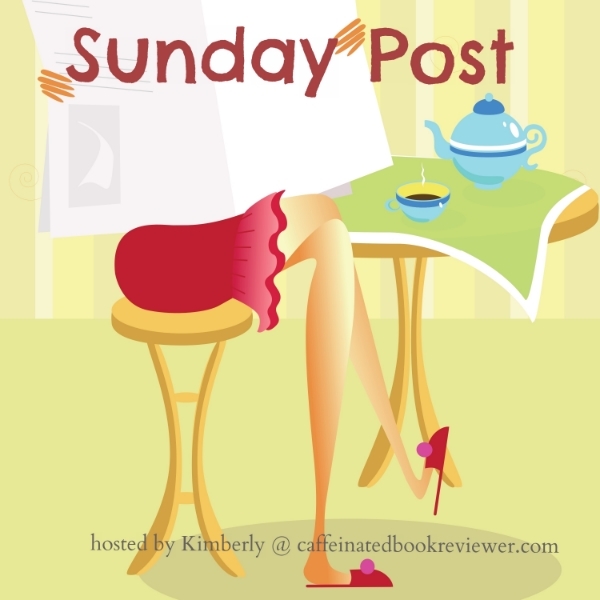 The Sunday Post is a weekly meme hosted here @ Caffeinated Reviewer. It's a chance to share news~ A post to recap the past week on your blog and showcase books and things we have received. Share news about what is coming up on our blog for the week ahead. See rules here:
Sunday Post Meme
Talk about making plans-ha! We went on our vacation and I think I read about 5 pages. The husband was not feeling well, vertigo, nausea, headaches--daughter was not feeling well. My medication usually means I'm not up to par...I did most of the driving. Husband and Daughter felt better when we got past the mountains on the way home. I think it was a case of altitude and maybe mold or other allergies. It wasn't Covid, so I guess that is something since where we vacationed has a low vaccine rate, and only about 1 in 10 people we saw were wearing masks indoors. While we are all vaccinated, we wore masks when indoors in public places due to the spread of the Delta Variant.
The house we rented was as nice as the pictures, to be honest, I felt like I did as much cooking and cleaning as if we were home. My new goal is to vacation at an all-inclusive! The main purpose of this trip was to see my parents so that we were able to do and that's what counts. It had been years!
We also got to see my brother from Canada and it had been four years since we had gotten to see him. One of our kids stayed home because he couldn't get off work, which was a bummer, he was missed! My other brother and his family came down with Covid right after we arrived, so we did not see them at all. They are not vaccinated.
It is a real disappointment to have done everything we can to not catch or spread Covid only to see far too many people choose not to do what they can do to stop the virus from infecting other people. If I had to describe our trip in a phrase, I would call it emotionally taxing.
Since we got home, I've been noticeably fatigued--stupid medicine. I hope I will figure out how to manage the fatigue--ie. how to feed myself more energy and how to manage my life so I'm not overpromising and underdelivering. An example of that is I was going to have a garage sale this week, but by the time we were headed home last Sunday I knew I was not going to pull it off!
What I can manage to do this week is share my thoughts on these three books--
Thanks for reading my blog. Typing things out helped me feel better! How was your week?